Why FiberBase?
Centralized Records
Mapping (MapInfo or FBWP)
Access to Information
Advanced Security
Visualize your data
Immediate ROI model
Access to field services
Cloud Accessibility
Flexible pricing options
We know your business...
More than 1000 features for our customers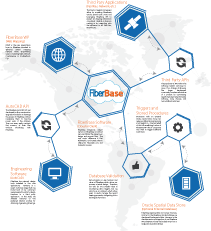 The FiberBase software solution has grown immensely since it's creation in the mid 1990's and now proudly offers over 1000 features for managing your fiber optic infrastructure. However the information, your information, is what creates value and our approach to data is the direction many companies are beginning to adopt.
FiberOptic.com's FiberBase has been designed to leverage the advantages of a centralized Oracle Spatial Data Store (OSDS) structure. In this architecture data is written from FiberBase's Oracle database to a central OSDS where data from multiple applications is merged...
Talk to your sales agent to find out which licensing package suits your needs.
Step 1
Select you FiberBase Version which would be either FiberBase (ES) or FiberBase (CS)
Step 2
Determine if you have the need for web based access to your maps or GIS information
Step 3
Choose FiberBase or AutoCAD via FiberBase API for your Engineering tools